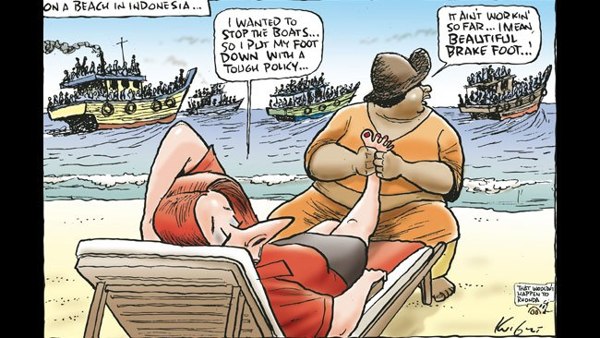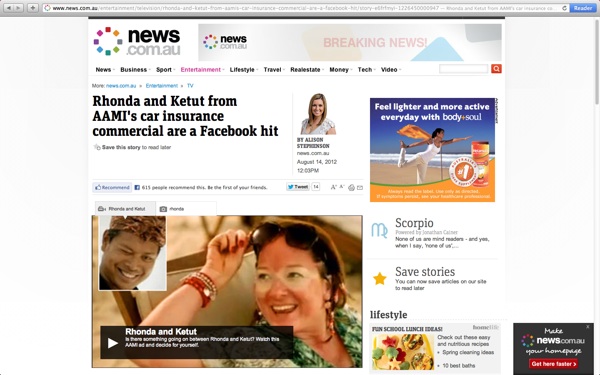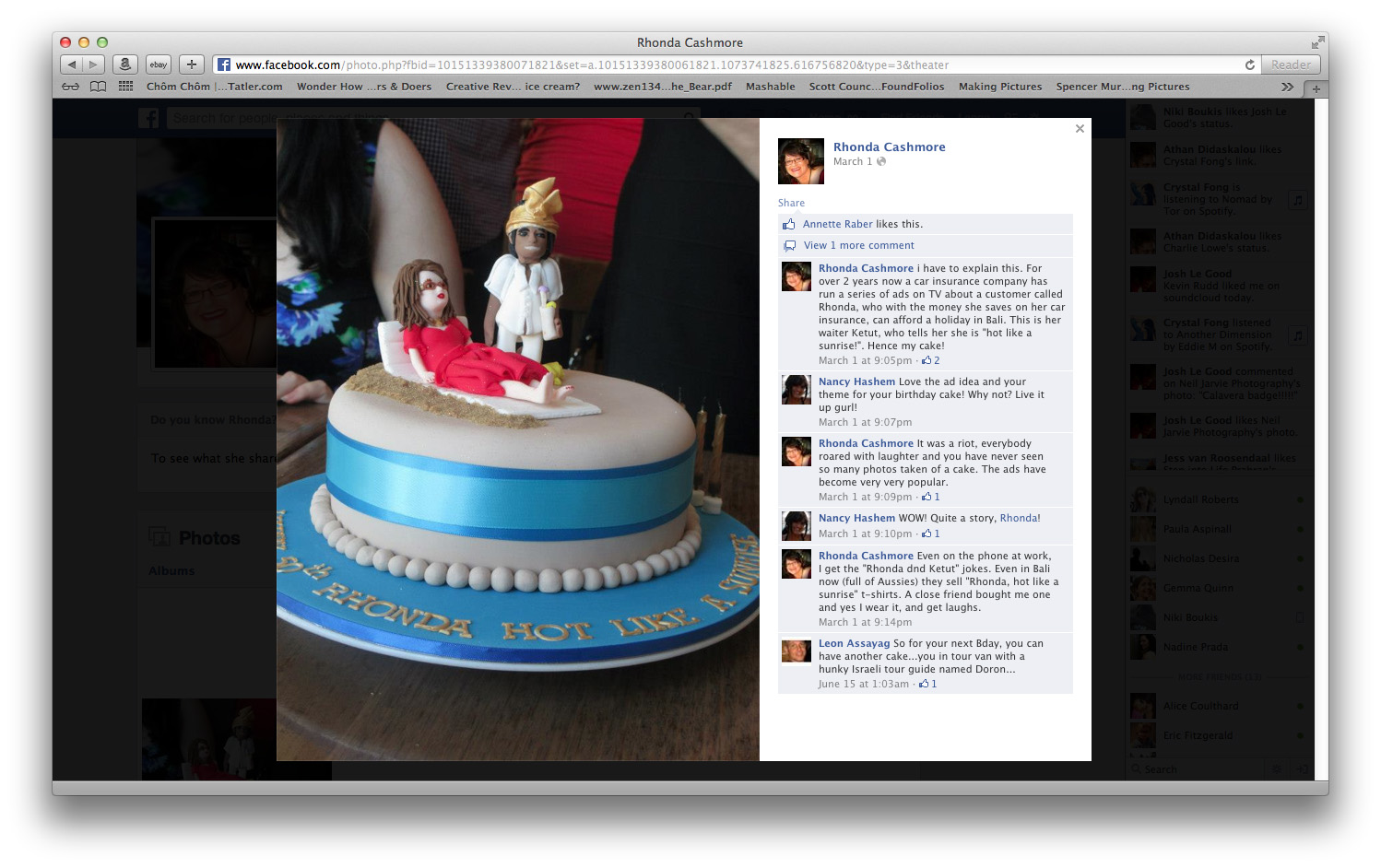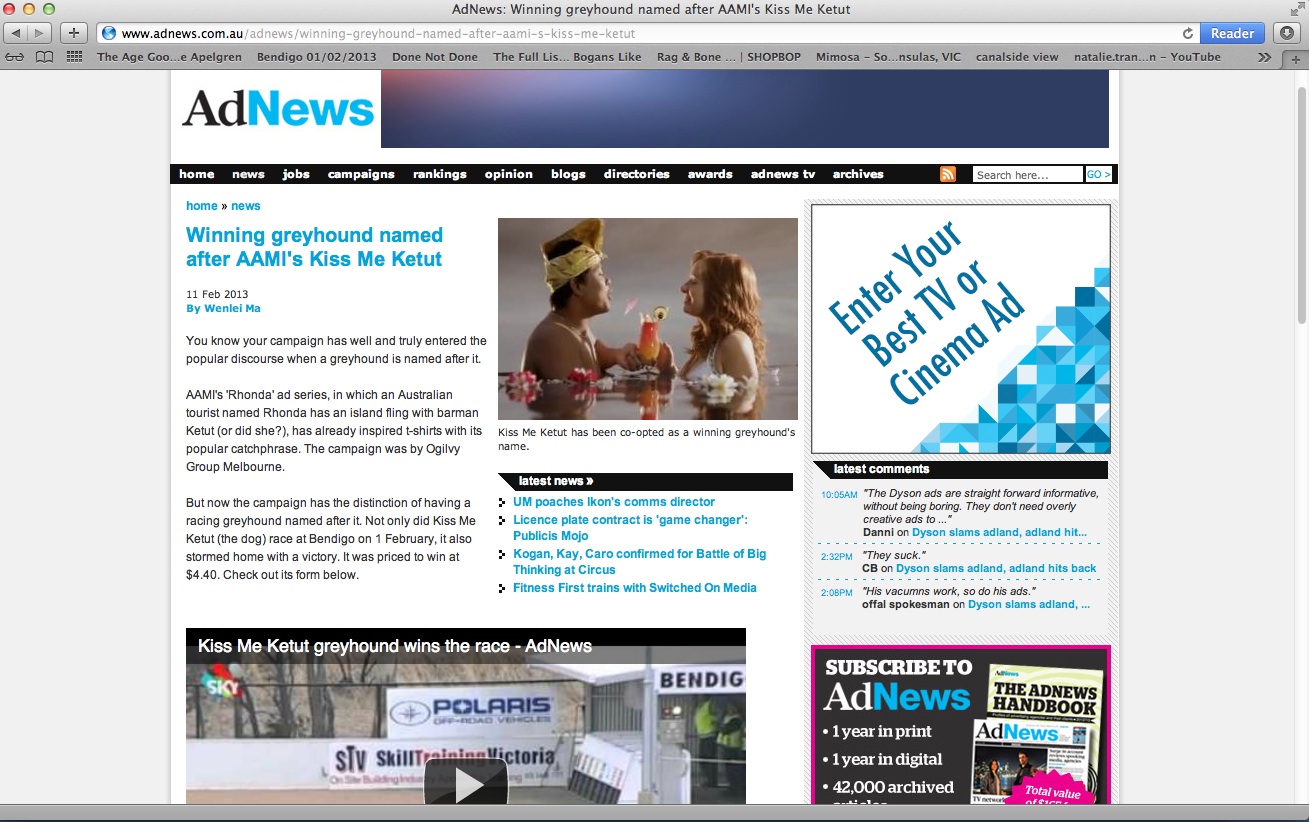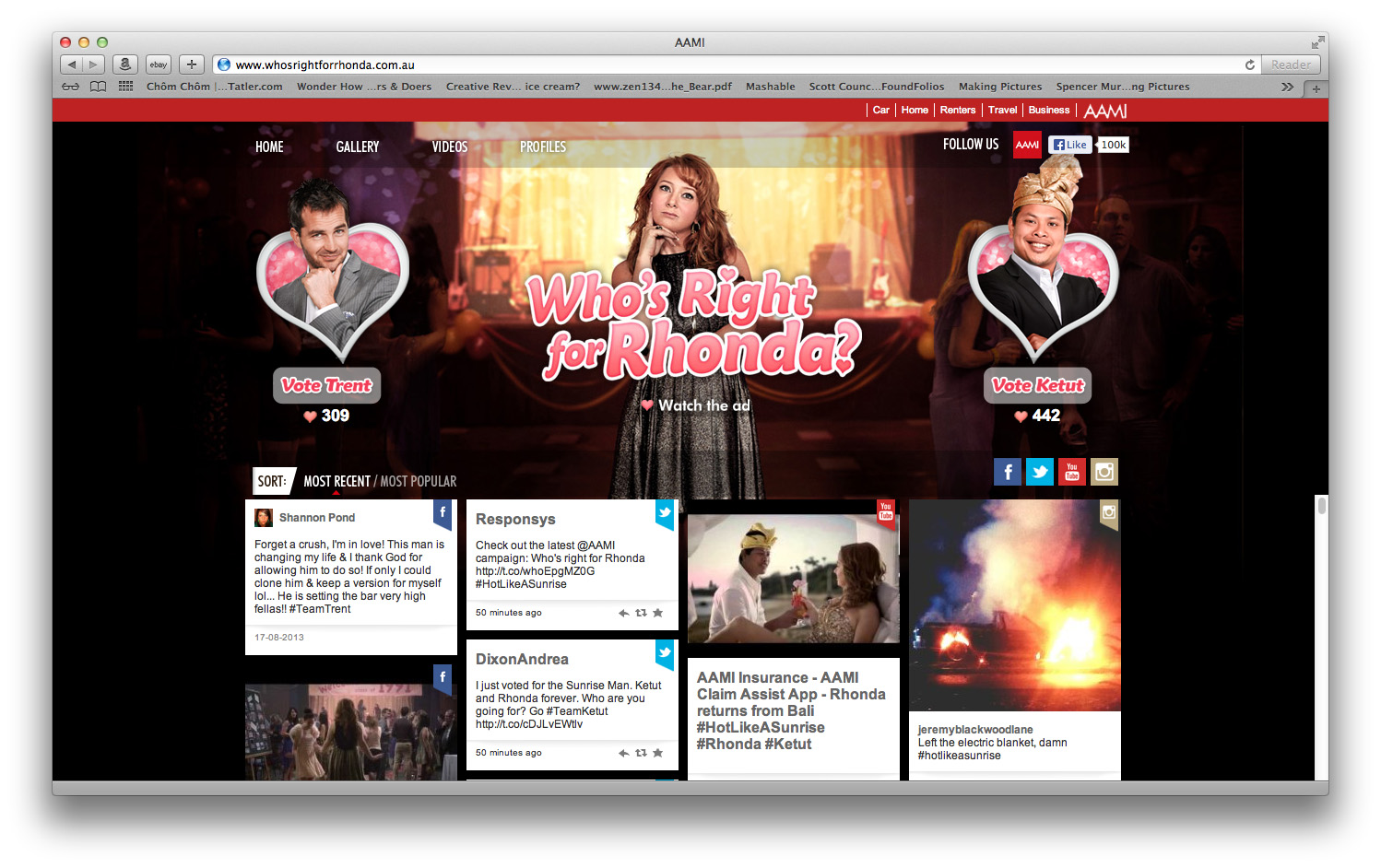 AAMI. SAFE DRIVER REWARDS.
Rhonda and Ketut have become Australia's favourite couple. Rhonda, AAMI's safe driver hero captured the imagination of the Australian public. Through a series of television commercials her ongoing story and romance with the Balinese waiter Ketut has become a cultural phenomenon.
The ads have evolved beyond simple product messages but into mini episodes of branded content used to breakthrough in the dry advertising category of car insurance.
Launched in 2011 the results have been category breaking, AAMI experienced significant increases in new business opportunities throughout the campaign.
The Bali retail campaign struck a nerve in Australian psyche and culture. Rhonda spoils herself in Bali with the money she saves from AAMI. It exploded on Facebook, an independent website dedicated to the sexual tension between Rhonda and Ketut received over 115,000 hits.
Lines from the TVCs eg.'Rhonda is Mine', 'Hot like a Sunrise' entered the vernacular, they became the No 1 t-shirts in Bali outselling Bintang.
Parodies were uploaded to Youtube, Tumblr sites, memes and political cartoons were inspired. AAMI's enquiry calls and brand awareness were at record levels, as well as massive free media coverage.
The next stage of campaign was the introduction of AAMI's innovative new Claim Assist App, whilst continuing the narrative of Australia's favourite characters and encouraging consumers to further engage with the AAMI brand.
Again the success of this campaign was refelected in the results, the App downloads increased 1,782% from the launch of the campaign, but the bigger question on everyone's lips: did Rhonda and Ketut hook up on holiday? 
The characters continued to be a hit in popular culture. So we did a special remix featuring unseen footage from the TVC and released it on Youtube and Facebook in time for Xmas.
The final chapter is Rhonda's school reunion, by now Rhonda and Ketut are truly entrenched in Australian culture, the story continued with shock horror a new man on the scene.
 Launched via FACEBOOK and then TV, this was the starting point for the next chapter in the campaign.
Digital, social media, advertorial and PR channels posed a simple queston to the Australian public: Who's right for Rhonda?
All this driving people to vote for either #TeamKetut or #TeamTrent.
Branded content that continues to engage the imagination of a nation. Who would have thought two characters from a car insurance commercial would become Australia's No1 couple.